Shah Rukh Khan is the most well-known actor in the world, but he is also quite involved in charitable work. Many colleges throughout the world have honored Shah Rukh Khan for his work in the film industry and his charitable efforts.
It's not just his star power, but Shah Rukh Khan's charisma that makes him the undisputed ruler of Indian cinema. Interviews with Shah Rukh Khan are entertaining to watch even for those who aren't his fans. Shah Rukh Khan is distinguished from his peers by his razor-sharp wit & comprehensive knowledge of any subjects. In addition to his acting talents, Shah Rukh Khan is also well-known for his public speaking skills.
Academic achievement of Shah Rukh Khan –
Shah Rukh Khan is a serious scholar, although few people know this. Shah Rukh Khan, a native Delhiite, attended and graduated from Delhi's prestigious St. Columbia School. He excelled in many aspects of school and was generally an excellent student.
Shah Rukh Khan excelled in the classroom and was the leader of the school's most successful sports teams. He was the top student in every subject and was awarded the "Sword of Honour" as a result. Even today, Shah Rukh Khan displays characteristics that indicate his good academic foundation.
Shah Rukh Khan continued his education past high school, in contrast to the majority of his fellow actors. Since he was a kid, he dreamed of a career in acting, which he eventually explored by studying theatre. While the acting was a passion for young Shah Rukh Khan, schooling was his priority. He earned his bachelor's degree in economics from Hansraj College, a school connected to Delhi University. Shah Rukh Khan continued his schooling at the Jamiya Millia Islamia in Delhi, where he earned a master's degree in mass communication.
Honorary Doctorate awarded to Shah Rukh Khan –
Shah Rukh Khan has devoted himself solely to acting. He was incredibly skilled at what he did, and his work helped to spread the name of his country and his name over the globe. Several universities all across the world have awarded Shah Rukh Khan honorary degrees, which is a fascinating fact.
1. Bedfordshire University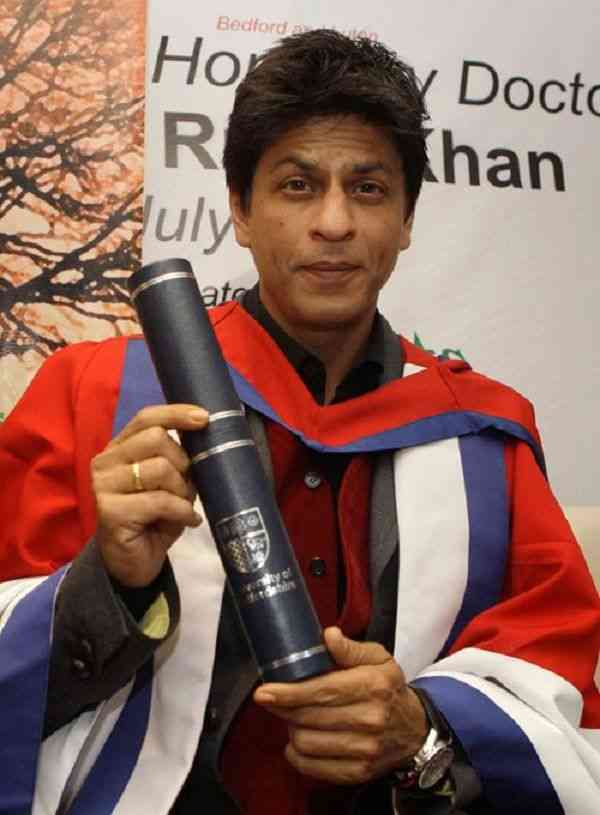 In July 2009, he was awarded an honorary doctorate from The University of Bedfordshire. Shah Rukh Khan, during his inauguration speech, said,
"I am a strong supporter of education," he said, "and I would like to use this honour and my status as an actor to help worthy students go on to higher study, be it monetarily or in some other way."
2. The University of Edinburgh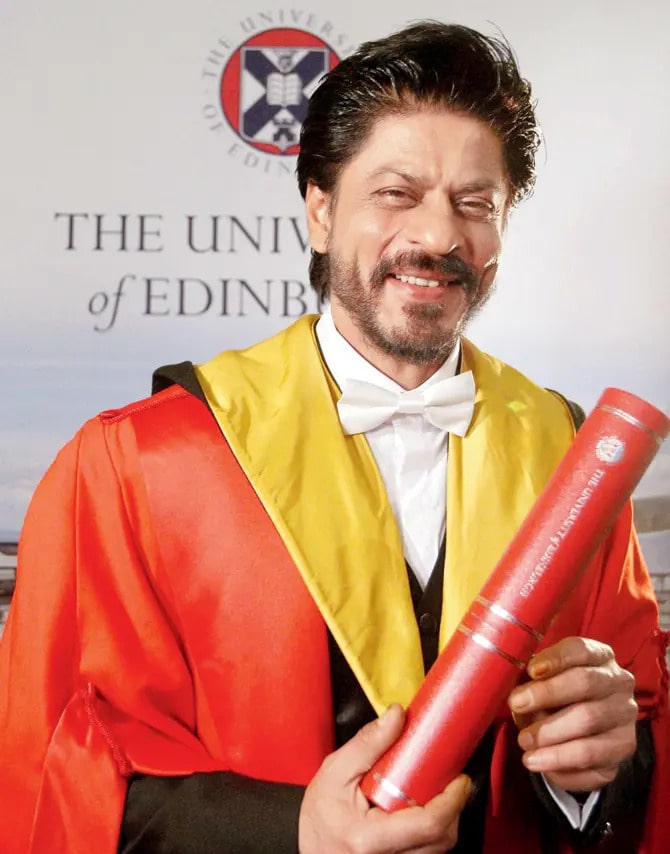 The University of Edinburgh awarded Shah Rukh Khan the honorary doctorate in October 2015 for his work in the film industry and charity work. "I am really grateful & extremely embarrassed," Shah Rukh Khan remarked after receiving the award. Princess Royal, the University's Chancellor, presented him with his diploma.
3. Maulana Azad National Urdu University, Hyderabad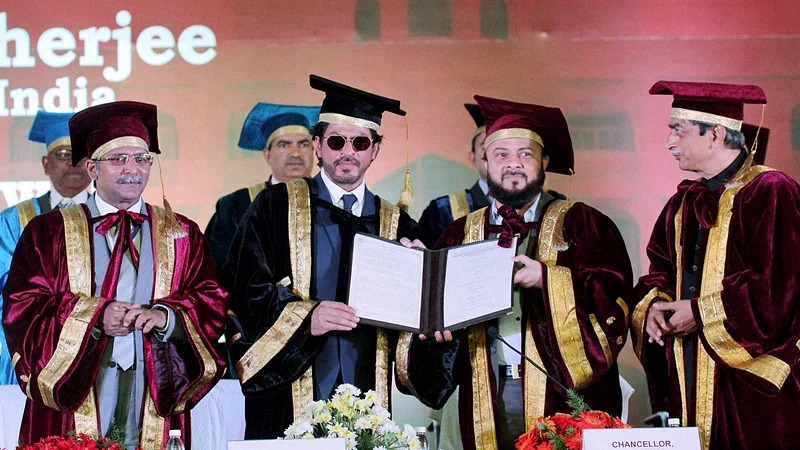 In December 2016, President Pranab Mukherjee presented Shah Rukh Khan with an honorary doctorate from the Maulana Azad National Urdu University in Hyderabad.
He spoke about how his parents, mainly his father, would have been proud of him for earning a degree in Urdu. "My dad was a very smart man who strongly backed the value of a good education. If my mother could have known that she was born in Hyderabad, she would have been so much happier".
4. London School of Law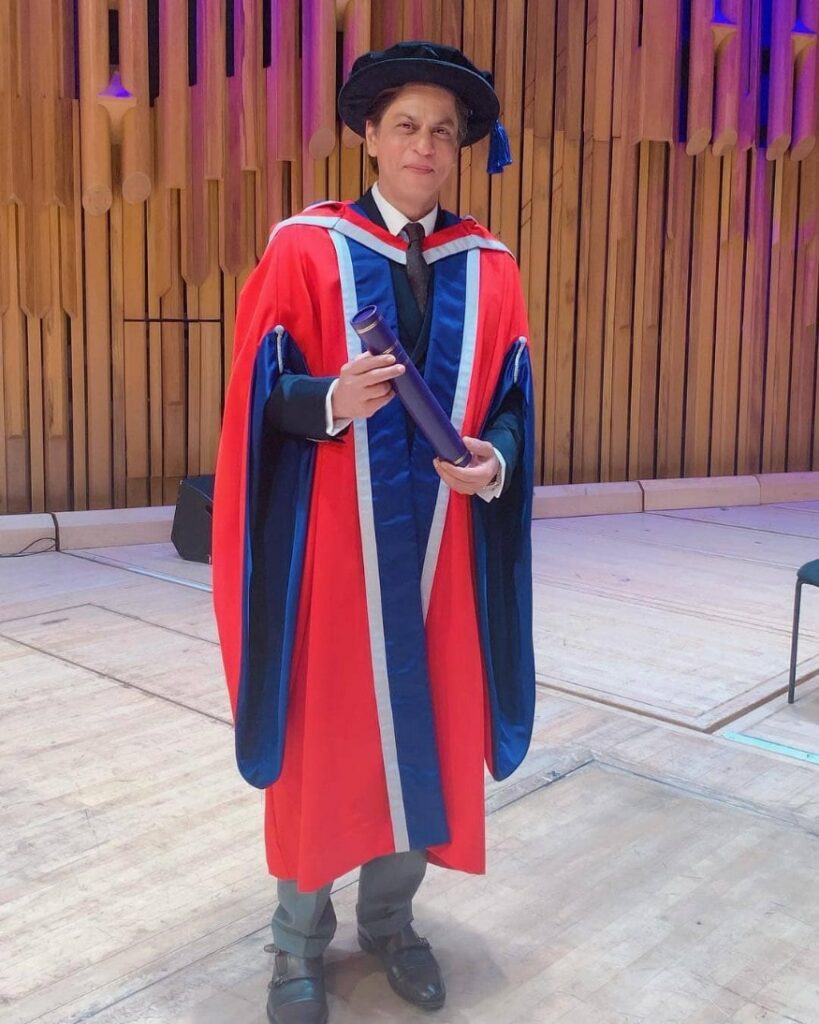 In April 2019, the University of Law at London awarded Shah Rukh Khan an honorary degree in Philanthropy.
5. La Trobe University, Melbourne, Australia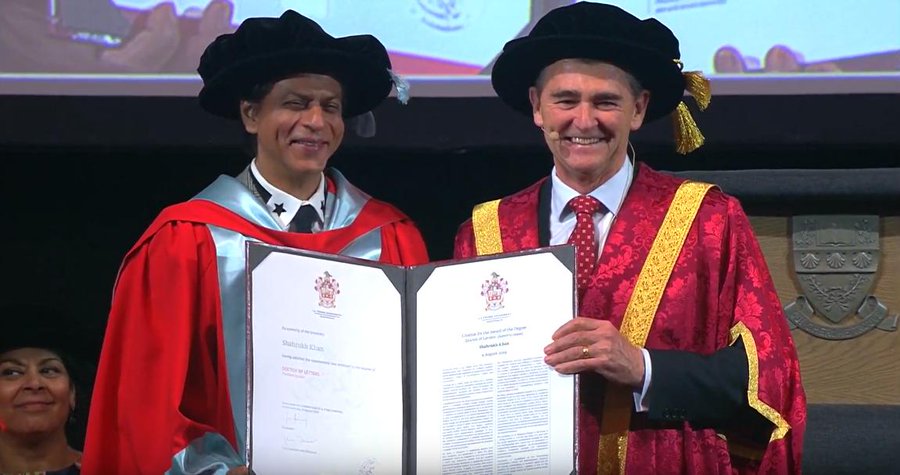 Among Shah Rukh Khan's most recent accomplishments is receiving an honorary doctorate from La Trobe University in Melbourne. This honorary degree is given to Shah Rukh Khan in recognition of his charitable work and filmmaking achievements. This week, Shah Rukh Khan is in Melbourne to serve as the event's special guest of honor at the Indian Film Festival, Melbourne.
In celebration of Shah Rukh Khan's advocacy for women's empowerment through the Meer Foundation, the institution has launched a new $200,000 award. On Twitter, Shah Rukh Khan expressed his gratitude to the institution for its support of the works of the Meer Foundation as well as its provision of college scholarships to deserving Indian female students.
La Trobe University honors Shah Rukh Khan with a special honorary doctorate –
La Trobe University has also declared the "Shah Rukh Khan La Trobe University (Ph.D.) Research Scholarship." This is a unique Ph.D. scholarship in honor of Shah Rukh Khan that will be awarded to a female Indian candidate for four years. The scholarship will allow the recipient to investigate a research topic in one of the following areas: health, athletics, information and technology, cybersecurity, or construction.
Professor John Dewar, Vice-Chancellor of La Trobe University, stated that the idea of creating a Ph.D. fellowship in Mr. Khan's name was motivated by the humanitarian leadership exhibited by Mr. Khan.
"The Shah Rukh Khan La Trobe University Ph.D. Scholarship recognizes Mr. Khan's extraordinary altruism, which he has demonstrated in his task to advocate for female empowerment," said Professor Dewar. "The scholarship was established to honour Mr. Khan's extraordinary altruism."
"As someone who is deeply committed to advancing the cause of gender equality, it fills me with joy to learn that this scholarship will provide an Indian woman with the opportunity to conduct research in an area that is likely to pave the way for an interesting and fruitful professional life. I want to express my sincere gratitude to La Trobe University for providing somebody with this extraordinary opportunity "Mr. Khan stated.
The recipient of the Shah Rukh Khan La Trobe University Ph.D. Grant will be awarded a full tuition research scholarship for four years with a total value of $200,000, and will also cover Overseas Student Health Coverage for a single candidate.
Before the award ceremony, the superstar was photographed in a gown posing with Australian animals, including a joey, a koala, as well as a kookaburra. She also carried a kookaburra.
In addition, students congregated outside the venue in the hopes of catching sight of their favorite actor or actress. Those who were waiting outside of the venue had access to a live stream that La Trobe University had put up to show the presentation event on large screens in real time.
With added feather to his honorary doctorate cap, he became Dr. Shah Rukh Khan from Mr. Shah Rukh Khan!